Pedestrians are the primary users of road and the first ones to have their right on the street. In spite of this, walking on the streets of Patna is no less than putting one's life in danger. Be it Indian Road Congress, National Urban Transport Policy or Global Street Design Guidelines, all talk about the primacy and importance of non-motorized transport in general and pedestrians in particular. However, none of these are being followed in the city of Patna; neither in spirit nor in letter. What comes as a rude shock is that this carelessness persists even in the wake of rising pedestrian fatalities and accidents, and increasing pollution. If Patna is striving to become a smart city, then it will have to guarantee clean air and good walking conditions.
These are some of the observations that came up in a meeting organized in the auditorium of Indian Medical Association in Patna on April 22, 2018. The topic of the meeting was "Status, challenges and duties of pedestrians in Patna". All the attendees in the meeting were asked to consider if the roads are being built for vehicles or for people. If the modal split in Patna has an overwhelming population of people going to work on foot and cycle then why are the roads catering to the needs of only motor vehicles? And what does such a scenario tell us about the democracy on road?
When people were asked to share what they see on the streets of Patna, all the obstructions and negative traits of the streets were listed – from billboards to garbage, from cattle to manholes – along with the constant threat from speeding motor vehicles. It was when people were asked to recount what they would like to see on a street did they realize the range of amenities and facilities that the pedestrians in Patna are devoid of. Given the poor pedestrian infrastructure, attention was also brought to the plight of specially-abled and blind people walking on the streets.
The meeting also recognized that though Patna is talking about becoming a smart city, it cannot go ahead on the way to becoming smart without the provision of fundamental services and infrastructure. Hence, it would be wrong to talk about civic sense in the blatant absence of civic facility. It was also questioned if smart can afford to be uncomfortable, unsafe, exclusionary and non-participatory?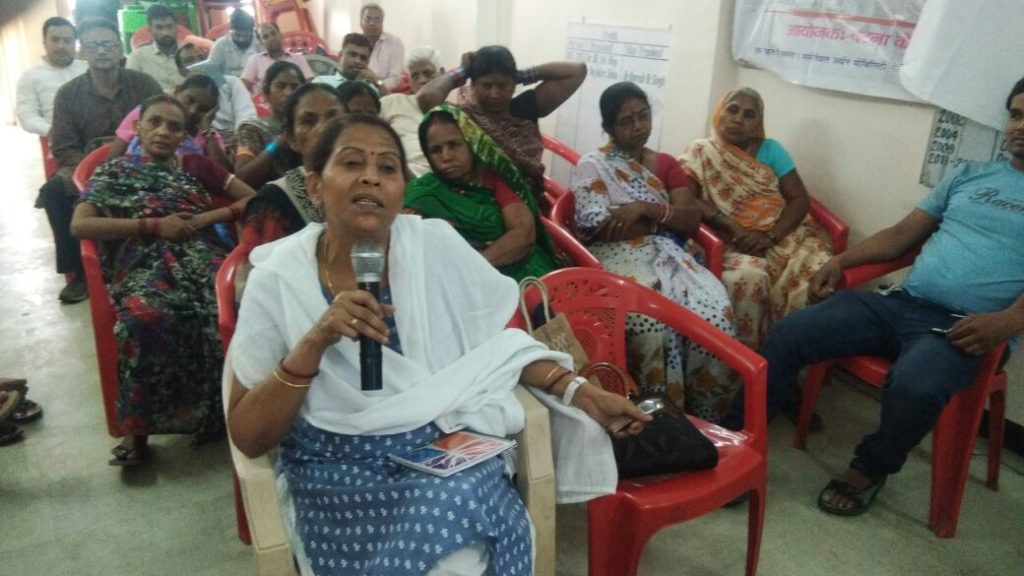 People who actively participated in this discussion were Indira Raman Upadhyay, Neeraj, Ankit Kumar, Manilaal, Dwaarika Paswaan, Mukesh, Amit, Shyamnandan Singh, Udyan Rai, women from Kamla Nehru Nagar like Savitri Dvi, Shanti Devi, Prabhavati Devi, Aasha Devi, Shams etc. The meeting was conducted by SUM Net partner Mahendra Yadav who talked in detail about the context and challenges in Patna city with respect to pedestrians. He also delineated all the activities that were done in Patna as part of the Walkability Project like conducting a detailed study of three roads in Patna for alternative design, preparing a handbill of demands, etc. Topic introduction and SUM Net's role was elaborated by Swati. The meeting was made possible courtesy the efforts of pedestrians in Patna who have been fighting for equitable road rights. The meeting was supported by Shakti Sustainable Energy Foundation, Delhi
Alternative Design of SP Verma Road presented
A presentation elaborating on principles of walkability and a detailed alternative design for the SP Verma Road was given by Madhura from the Urban Design Team at SUM Net India. After establishing the inalienability of bottom-up approach for the alternative design through involvement of people in discussion and demonstration, the different methods for re-organizing existing streets in Patna were presented. A re-organization which can provide sufficient place for pedestrians to walk, some space for parking, allocated places for hawkers and vendors, and adequate space for motor vehicles too. A model re-organization of street which can be taken up in many other streets of Patna.
Formation of Paidal Cycle Yaatri Manch (Pedestrian and Cyclist Forum)
Towards the end of the meeting, a Pedestrian and Cyclist Forum was formed. The objectives of this forum include creating awareness among people about the principles of walkability, pushing the local government to ensure convenient, affordable and adeqaute facilities for pedestrians and advocacy for the rights of pedestrians. For this, a 13-member Coordination Committee was formed in which Advocate Manilal, Dwarka Paswan, Uma Daftuar, Shams Khan, Deepak Patel, Shashi, Johar, Sarfaraz, Furqan, Abad and Mahendra Yadav will be lead by senior journalist Suroor Ahmed with Udayan Rai as the convener.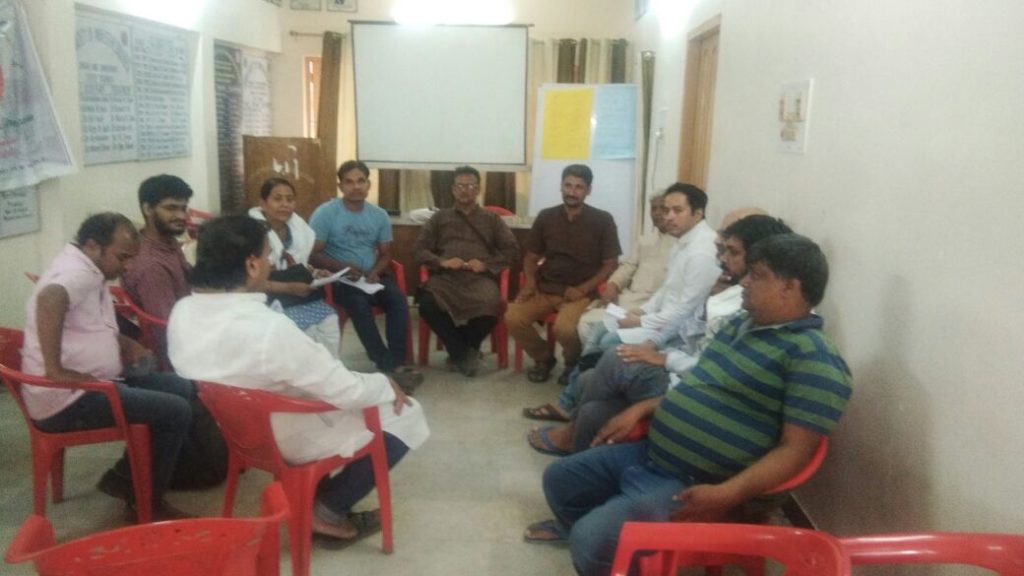 You can also read a media report of this meeting.