This year, SUM Net's main agenda is to reach out to more organisations, individuals and cities through engaging in urban transportation issues in different cities in India. This exercise started out with an orientation workshop held at Pune for thirteen new members who then went on to take up projects related to transport issues in their own cities. The workshop was held on 18th and 19th of February 2016 at YASHADA, Pune.
The workshop was structured to orient the participants about sustainable urban transportation through discussion and sharing of experiences in different cities. Further the participants were divided into two groups based on the kind of projects they would be doing after the workshop, namely – sustainable transport projects and transport budget analysis project. Six participants decided they would take up singular urban transport related issues in their cities and conduct studies under the sustainable transport project programme whereas five cities agreed to conduct a transportation budget analysis of their cities under the budget analysis programme.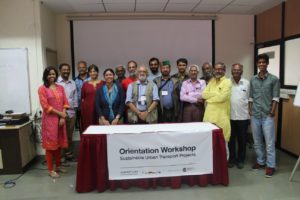 DIscussions on important issues such as spreading the work of SUM Net in India, the role of media in bringing about change in our cities and how to engage with them as civil society organisations and so on. A BRT visit was also arranged for the participants, who came out with great insights and observations about the system.
The Rainbow BRT is being developed as a high quality mode of public transit by the PMC, PCMC and PMPML. A visit to the BRT corridor in Pimpri Chinchwad was facilitated by Pratik Dave, OSD (BRT), Pimpri Chinchwad Municipal Corporation and Sanskriti Menon, CEE. The participants boarded the bus on the Aundh Rawet Corridor..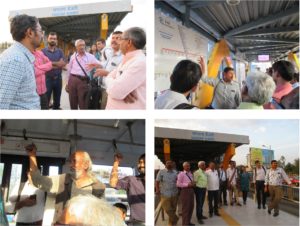 For more details on the workshop, go to the report.