Public Transport Now!
Delhi's Bus System and the Challenge of Ensuring Safe and Universal Accessibility
July 18 | 11 AM – 1 PM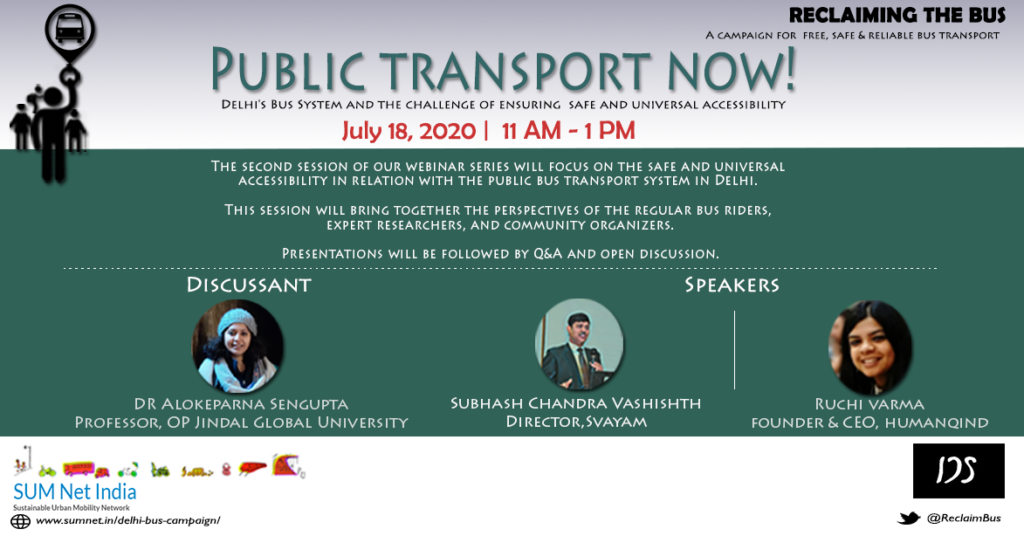 *** Please register for the webinar here.***
As part of the 'Reclaiming the Bus' campaign, we are organizing the second installment of our webinar series 'Public Transport Now' on July 18 from 11 AM to 1 PM.
This discussion will focus on the universal accessibility and safety aspects of urban mobility and the centrality of bus transport in ensuring these. This session will bring together the perspectives of regular bus riders, expert researchers, and community organizers.
Speakers
Subhash Chandra Vashisth (Director, Svayam)
Ruchi Varma (Founder and CEO, HumanQind)
The discussant for the session will be Dr. Alokeparna Sengupta, Professor at OP Jindal Global University. Presentations will be followed by Q&A and open discussion.
Please register for the webinar here. After registering, you will receive a confirmation email with a link to join the webinar.
To assert the demand for better bus-based public transport services in Delhi during and beyond the pandemic, we are launching the campaign "Reclaim the Bus". This campaign demands that:
1. Bus services must be considered essential services and along with pedestrian and bicycle infrastructure buses should get priority in road space allocation.
2. Workers running the bus service are essential workers and their safety and well-being must be the responsibility of the state.
3. Bus-based public transport should be made free for all. The bus users are not consumers but citizens and bus is a vehicle for accessing the right to mobility and right to the city.
4. Necessary actions must be taken urgently to make the journey on the bus safe for all both during and after the pandemic.
5. Reliability of schedule and journey time should improve and bus users must be considered as equal stakeholders in the planning and running of buses.
Please read our full statement and the list of demands. Please endorse the campaign here. You may read more about the campaign here.
Organizers:
'Reclaiming The Bus'
Campaign for Free, Safe and Reliable Bus-based Public Transport in Delhi
Institute for Democracy and Sustainability in association with Sustainable Urban Mobility Network (SUM Net) India